I first had a conversation with Jonathan Gilliam after the Las Vegas shooting. He had an informed opinion on how to make outdoor festivals safer. One of our followup conversations took place when he was hired to run security for Eric Church's Double Down Tour in 2019 but, being a busy guy, Gilliam could never expand upon his experience. It took us until this week to get around to the conversation.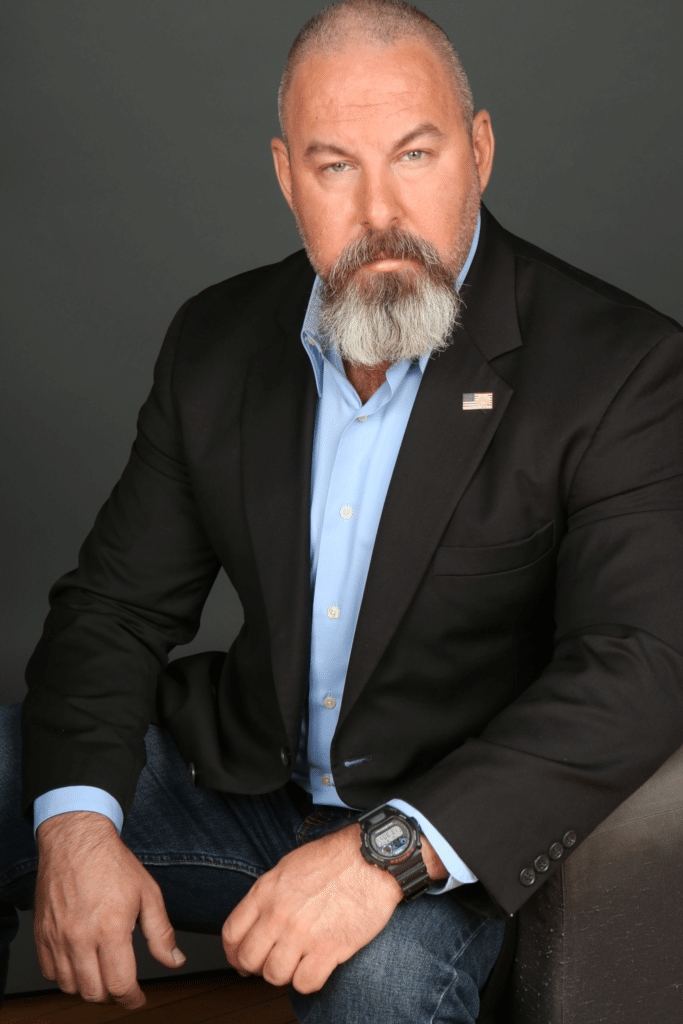 Gilliam's bonafides are extensive and we'll put them at the bottom of this article but his background includes being a Navy SEAL Officer on Counter Drug/Narcotics missions, an FBI special agent on criminal and counterterrorism squads and is currently the President / CEO of United States Continued Service, LLC consulting firm. 
He has more than 1000 appearances on television.
This is the conversation that is 4 years in the making, one that began pre-covid when you were on the Double Down Tour and basically said something almost a bit cryptic, that there's a lot of work to be done with security on concerts and concert security. WE never got a chance to dig into it.
Yeah pretty much. Nothing has changed since the Vegas attack. You would have thought that that would have been a game changer, kind of like Columbine was for schools, but it didn't really change much. For a little while, people took security more seriously but then it just dwindled away, which is typical when things aren't happening. For people who have to pay for security and have to put that in the budget, it's the first thing they cut when things aren't occurring.
You were on tour with Eric Church. Did you notice anything that was dwindling?
Well Eric's tour manager, Todd Bunch, is a forward thinker and they were a headliner in Vegas. He read my book and reached out to me, and we did things differently. We had a threat assessment every day. We had a complete writeup of the venue we were at. We had a rally point and how to evacuate if something occurred. All the things people talk about but don't really implement.
And they were interested in it. They were really, really allowing me to do the things that I needed to do to make them safer so, with Todd, with that group, it worked for the period of time that I was there. I don't know how it is now but I know for the majority of tours and the majority of people that fall under a type of potential threat, celebrities, different people like that, they hire people that don't have the the real knowledge of forward-thinking. They don't have the knowledge of threat assessments and rally points. Instead they hire a bodyguard mentality.
Todd saw my potential and he reached out to me. And we saw there was a threat. We changed things. I'm not corporate security; when corporate security takes over, a lot of time it's just a check-the-boxes type of thinking and that's where the smaller boutique operators and their companies really does pay off.
So how would you see things now with your own security company?
Whatever is the continuation of that. Having the rally points, having an evacuation route that's marked and trying to slowly get people into the mindset of thinking that if I was going to attack, where would I do it, how would I do it, when and where, and then how would I respond?
So, that's going back and forth between the attacker/defender mentalities. The whole process takes time with a tour but overall, after a period of time when you know people are starting to get comfortable is when their mind will shift a little bit.
Any last remarks?
When a concert rolls into a venue, the concert and the venue themselves should be working together. Each different type of concert or entertainment tour is going to bring different types of people to the tours and, with those people comes a different threat and different types of attackers but, overall, it's not rocket science. If the venues and the tour itself work together, they can act as force multipliers for each other.
But I would say to the people who run the tours they have to realize when they walk into that venue that if the venue's attacked, their quote-unquote concert or tour will be attacked as well. They have to realize that if the venue isn't doing their job then the security personnel and the tour manager should take control of that and put those people where they want them. After a while you'll start to see commonalities, common vulnerabilities and unique vulnerabilities for each place that you go.
Security is something that should be taken seriously but it should be thought of in advance. They should be thinking about all these possibilities and then have contingency plans for them before they happen because, when they think like that, they can act, not react, and I don't think that the entertainment industry/concert industry has ever moved in that direction. In large part that's because the venues and the management they'll listen to the soundboard guy because they want to have the best sound but they won't listen to the security guy when he says "we should move this way, we should prepare for this situation."
So, when something occurs they have no preparation. It would be the same as if they had a sound guy, where the tour manager who is not a sound person is telling him what to do, and they have no plan for if lightning strikes or if a set of speakers go down. So if they're not going to run tours like that, they shouldn't run security like that. Venues should also realize they have the manpower to make things better. They just don't do it because they don't typically hire the right people who know how to forward think about these things.
And to be honest with you that is the other problem is that there's a lot of liars out there. There's a lot of people in security who say they have experience but have no experience and some are big names.
That sounds very dangerous.
It is. It's very dangerous.
And you're not only saying that they're big names but they're getting hired for significant events.
Yes absolutely.
And when you combine that with tour managers or entertainers themselves that don't understand the reality of the threat and the potential things that could happen, you end up having things like Vegas or Manchester where the venue wasn't prepared for it. The Ariana Grande attack could have been prevented but Manchester wasn't prepared for it, the police weren't prepared for it, the venue wasn't prepared for it and neither was the audience. It was easy for the attackers to say we don't need to deal with security. We can just walk up to it and blow up a bomb.
And I've been to that location and now it's a little bit more secure but the arrogance of the people who run that arena is ridiculous. The worst thing a security person or a venue manager or tour manager could ever do is assume that they know everything based on ego.
Security is a humble thing. You have to be able to say that somebody who is not qualified to attack could attack so we need to figure out how they would do it so we can stop it.
Jonathan T. Gilliam grew up in the Ozarks mountains of north Arkansas, and graduated from the University of Arkansas at Little Rock with a BA double major in Political Science and Psychology. He began his career in service as a Police Officer just outside of Little Rock, Arkansas at Camp Robinson Police Department, before he received his commission in the United States Navy at Officer Candidate School (OCS). Gilliam then attended Basic Underwater Demolition / SEAL (BUD/S) training and US Army RANGER School before being forward deployed as Officer in Charge (OIC) in Central and South America as a Navy SEAL Officer on Counter Drug/Narcotics missions.
In 2002, Gilliam stepped out of military service and directly into federal law enforcement where he served in an undercover role as a Federal Air Marshal flying undercover on US transcontinental flights, including flights that were being targeted on 9/11/2002. After serving our nation in the air, Gilliam operated as a Security Specialists for the US Department of Homeland Security, where he was responsible for performing threat assessments and instructing soft target sectors how they could target themselves from an attacker's perspective in order to build awareness for action and better defenses for reaction to attacks.
From 2005-2013, Gilliam served with the Federal Bureau of Investigation (FBI) as a Special Agent in the New York Office on criminal and counterterrorism squads. Gilliam conducted 1000s of hours of surveillance, served as co-case and case agent, led arrest teams and functioned as the Special Events Management Unit (SEMU) Coordinator, where he developed threat assessments on targets in the New York area and functioned as the on-scene coordinator at high threat events and large-scale incidents. As the FBI Rapid Deployment Team Coordinator, Gilliam outfitted and assisted in coordinating the deployment of agents to Benghazi to investigate the crime scene in Libya following the terrorist attack that killed Ambassador Christopher Stevens, Sean Smith, Glen Doherty, and Tyrone Woods.
Since leaving the FBI, Gilliam has served as a Security and Crisis Management consultant and director of security for a major country music tour as well as personal protection for other high-level celebrities. Currently, Gilliam is the President / CEO of United States Continued Service, LLC consulting firm, a partner at Campaign Strategy And Consulting and a network news contributor where he is the only analyst in today's media that possesses operational experience in military Special Forces combined with experience in multiple local and federal law enforcement agencies. He has made over 1000 appearances on Fox News, CNN, MSNBC, NEWSMAX, OANN, BBC, and other global and local news networks. Gilliam is also a Sirius XM host where he fills in for Sean Hannity, Andrew Wilkow, and David Webb, and hosts his own podcast, The EXPERTS podcast, which is consistently ranked in the top 50 News Commentary podcasts on iTunes.
Gilliam's first book, Sheep No More; The Art Of Awareness And Attack Survival debuted at the top of Amazon's Best Seller List where it has remained since its release on December 12, 2017. Now, there are two fillable Sheep No More workbooks Gilliam created for threat and defense assessments and a children's safety and awareness book, named The Adventures Of Team Little Bigs: A Parents Book For Children.