You think you know someone.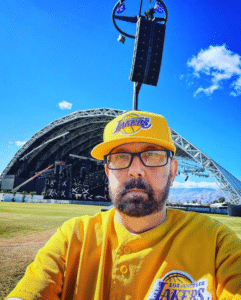 We all have those people– not family or BFFs – that we assume we know. That person we see every year at the holiday party, that coworker we talk to in in the breakroom, that friendly volunteer that shows up at every church function. Yet we don't really know them; we just think we do.
This writer/interviewer has spent literally decades talking to the so-called intriguing bigwigs that everyone gravitates toward, it's possible to zip around those whom are closer.
Enter Wiley Dailey, longtime boots-on-the-ground production manager for Goldenvoice. Those in the industry on the West Coast — throughout California and Las Vegas — and up in Alaska have met this friendly persona, as have those who worked with the traveling version of Lollapalooza or visited his second home, the Sahara Tent at Coachella. Alongside Dailey these people have equally spent time out with his bestest buddy, Kobe, the chihuahua who is always showing up at the production room with a doggie bed.
And yet, there is much you may not know about Wiley like, for instance, that's not even his real name. Or how he knew Marlon Brando. Or why it's so hard to locate his birth certificate.
This interview began with the premise that we'd talk about how a promoter can cut show costs and ended up as a fascinating journey into an acquaintance's background.
It's long, but that's because it's too interesting to cut.
Let's start with the basics. Wiley is a cool name but I didn't know you had another cool name, Orion.
Orion Star Dailey is my born, given name. I have a twin brother and our mother didn't know she was having twins until two weeks before she gave birth, and she gave birth early. She had gone in to UCLA where we were born for a checkup and they took an x-ray that told her she was going to have twins.
We were fraternal. I was born first. I'm seven minutes older. When my mom went home to go to sleep that night she found she was having twins, she had a dream. She had the dream every night for seven nights. She was in Bethlehem, it was in color. She heard the voice of God cry out "Name the first born Orion and the second born Arion." His middle name is Maximillian so he goes by Max.
My middle name, Star, was because I knew Orion was a constellation and I was fascinated by astronomy as a child, so I was able to add my middle name when I was 3 years old. People would paint me pictures and I would go to the observatory and look through the telescope. My mom helped with the name addition. My godfather, who was an actor named John Barrymore – Drew Barrymore's father – signed our birth certificates to add the new names.
I actually have scanned prints of the birth certificates. My brother and I went to get our licenses later in time and we couldn't find our birth certificates. Turns out, our mom went to go see "The Deer Hunter" and she came home and set them on fire on the front porch. She was afraid we'd get drafted. She had lived through Vietnam and all the neighbors were going off to war, and disappearing. All the kids older than us were getting drafted.
Didn't "The Deer Hunter" come out in 1977?
Yeah, something like that. The movie terrified her and she came home and burnt our birth certificates. So, when we went to get our student drivers permits in high school, we asked our mom for them to take the class. You didn't have an ID in those days; just a school ID. We had to go to the Hall of Records and get our microfilmed versions on file.
No, but it's funny because people freak out when they find out about my real name because I go by Wiley. It's been that way since I was as small child. I'd be on my Huffy bike, we'd build skate ramps and ravs and I'd be Evel Knievel and jump out of windows, doing all kinds of crazy Wile E. Coyote type stuff. Evel Knievel was huge when we were kids, so I got the name Wile E. from the neighbors because I was a "wily guy." That sort of stuck.
Glad I asked. Didn't expect such an interesting answer.
Wiley will get you on the bus for free, and if you say Orion, they'll just shut the door and start driving away.
I don't want to linger too long on your childhood but it's quite an aside to mention in passing that John Barrymore is your godfather.
He was insane. He'd be at my house partying all night long with my mother. Then he'd take me to school. He'd go into the principal's office and say, "I'm taking Orion for the day" and the principal would sign a slip of paper, hand it to the dean, and I'd get out of the school with John, and my mom wouldn't know.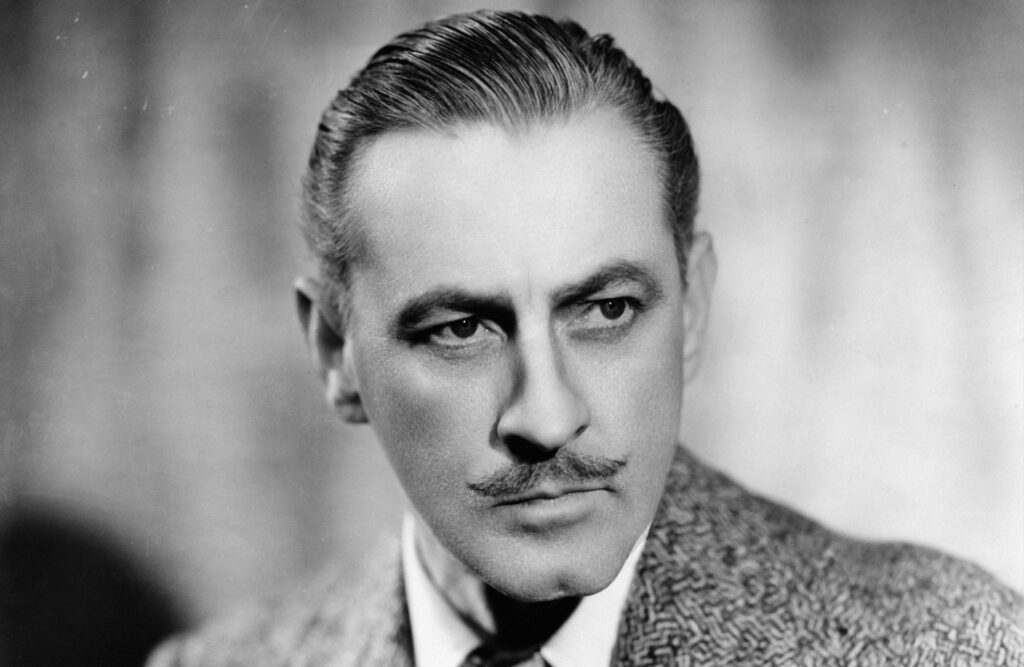 But's he's royalty. He's literally Hollywood royalty.
He would go to a famous drug store on the Sunset Strip. It became the Virgin Megastore and is now a Whole Foods or something. It was called Schwab's Pharmacy, at the bottom of Laurel Canyon. John lived there along with David Carradine from "Kung Fu." He was a family friend so we'd go to their house.
Everybody knew everyone in town at that time. My mom was well known. The door to our house was always unlocked and people were always hanging out. My mom was friends with The Byrds. The first concert we ever saw as kids, at two or three years old, was a love-in in San Francisco Golden Gate Park. I think it was The Animals, Janis Joplin and maybe others. People were throwing flowers into our baby carriages.
Anyway, John would always come around. Marlon Brando was a family friend. We'd go to his house for three days and watch his cable TV because we didn't have cable. He'd be off doing movies. In those days, you didn't know these people were superstars. Maybe you'd see them on TV or go to the movie theatre to see them, but you didn't have your phone or Google to instantly look up someone. To research them you'd have to go to the library or the movies, and there weren't any VCRs or DVDs back then, so they were just normal people to us.
Wasn't expecting any of this. What's the background with your mom?
My mom used to work, when she was pregnant, at a club called The Ash Grove. It was like a jazz club. Different bands played there. She was a waitress there. She told me a lot of times the bands would be playing and we'd start jumping in her womb and she'd have to go outside to stop us from kicking and dancing inside her belly.
She just knew everybody. It was just a different time.
And my mom was a seamstress so she'd make costumes for movies and TV. She'd sell stuff at the high-end shops to help take care of us. That's how she knew a lot of people. Karen Black was a family friend; mom would do all of her clothes for her movies. We'd go to Karen's house and eat dinner because she had a big place on Fremont Place next to Muhammed Ali. You'd see him walking around in his garden. It was a crazy childhood.
She was. My dad wasn't around much.
A lot of these stories begin with "I did some shows for a fraternity while in college." In your case, it sounds like you could have gone in any direction you wanted. You could have pursued TV or film.
Well, I tried the acting thing. I had people who'd approach me as a child. I'd be at a liquor store and they'd walk up and ask if I'd want to be in movies. My problem was I was a shy, dyslexic kid and couldn't read scripts. They'd hold cue cards in front of me. Then they'd put an earpiece in. I did a few things here and there but there were parts I wasn't comfortable with. I got into it for a minute but I was too afraid, too shy, and too insecure.
The first music job I did was in a store called Music Plus. It was a chain record store, but there were only a couple of them. This was on Vine and Sunset. Now it's a Kinko's. I would go and clean up the parking lot when people would buy tickets; there would be lines around the block for Ticketron. I'd come and take displays down, put them up. Then I would take all the old display stuff and sell it at swap meets. That was always fun.
So that wet your whistle for where you might be heading in life.
And then — I wouldn't ever talk about this story – but for almost all of my high school I worked for a ticket broker. I'd drop tickets off, pick them up. You know what ticket brokers do; back then they weren't one of the storefront ones you have now where you see the big marquees that have the coming attractions. They were sort of private. They took care of all these elite, rich people. It wasn't regular people who came into their offices; it was Carol O'Connor. Carol would call all the time. The guy who owned the business would go see college football players and become friends with them and when they became pro, and got into the Super Bowl, he'd get tickets. That was a whole thing to see: hundreds and hundreds of Super Bowl tickets.
Ticketron. Talk about going full circle. My predecessor at this job – one of his first jobs was to train people on how to operate Ticketron machines.
I knew this guy who owned a camera store in Hollywood who had a Ticketron machine in his basement, and he was paying for the license on how all that worked but it was never public, so he would print tickets when they went on sale. He'd print hundreds of tickets for, like, Rolling Stones '81 at the Coliseum. He'd print 500 tickets and go sell them to brokers. I don't know whatever happened to him but he had a great business because, in the old days, when you went to The Forum for an onsale, all the tickets were printed already. All the Ticketron depots were pulling off the system but most were going to the Forum. Neil Diamond was playing, like, eight nights there and Carol O'Connor would call on the private line. He'd call and say (imitating Archie Bunker), "Orion, it's Carol O'Connor. I need 12 seats for each night of Neil Diamond." He had seating charts for all the venues at his house, sitting on the table. When he wanted to go to the Dodgers, or the Lakers, or a concert, he would tell you what he wanted. You pretty much had it or would go find it for him. He would want the front row.
It was so funny. He'd sound just like Archie Bunker every time. You'd deliver them to his house, you'd send him a bill, and his manager would pay for it.
Funny that the chair that dude used to sit in is now in the Smithsonian.
The '80s was a different time and this broker had a rich clientele. OJ was friends with my boss. When OJ got Super Bowl tickets he would come into the office and sell all of them. We'd go have dinners for my boss for his birthday at restaurants. They'd reserve the whole restaurant. OJ would be there with his wife and other football players like Roman Gabriel, Bart Starr, all these legends, eating at a prime rib house. Pretty wild.
Did this seal your fate, your future? Or did you still have free will and chose to move forward with the concert business?
Well, right at the end, working for that ticket broker, I was strung out and drunk and fuckin' loaded. Everything you could think. I just walked out of the office one day and never walked back in. A few years later I cleaned up and have been clean ever since. It's been 34 years.
Working in that business, with all that was going on, it was nonstop. There was a lot of money in the office to buy drinks, to buy stuff. Not like you're spending all your money; it was just sitting there on the table like See's Candy.
So, you and your "god-cousin," Drew Barrymore, have a similar story arc.
Yeah.
You disappeared for a while? Made a conscious effort to get into this business after that?
Well, I worked with bands when I was crazy and strung out, roadie-ing and stuff, and I knew I could do that when I got sober, and had to pay bills. So, I started working for shows, working for Goldenvoice, doing load-ins, load-outs, working on crews, then started repping shows. They'd ask if I could cover a show and I'd say yes. Word would get back I did a great job and the bands loved it, and I've been working on shows for Goldenvoice and my own shows – which I do now – on bigger levels since around 1990.
Set me up on the timeframe when you started at GV. It was Rick van Santen and Paul Tollett, having bought the company from …
Rick and Paul, who bought it from Gary Tovar. Gary was in jail at the time. Rick and Paul had a very small office. They had a few but the one that stuck was at the Palladium. We had the exclusive there. Paul and Rick would book the shows and the tours that would come through, like Smashing Pumpkins and Beastie Boys.
The crazy thing about Rick: if there were available dates at the Palladium, like a Tuesday or a Thursday, Rick would be calling agents, every agent all over the country, saying, "Hey, I have these open dates. Let's do something. Let's do LA, Hawaii and Anchorage."
He'd put packages together that were not touring packages; they were to occupy the building. It was amazing to hear him on the phone, calling all the agents out of the blue. If a band was on the road, it would be one-offs. Mainly you're buying a tour that's coming in or buying a show that's on tour the day before, when it's in San Francisco and the next day in San Diego. He was great at buying things outside the packages. It was amazing to hear him talk on the phone, all day nonstop.
It was a little office there. It was Paul Cutler, Mikey Borens, Paul T, Rick, Adam and Danielle there, and the promoter reps. That was me, Kevin Lyman, Mitch Cramer. It was a small group of people.
Kevin Lyman gave me my start. He'd put me on more shows to be a crew guy and then one day I'd cover for a stage manager who was sick. Then, when I was a crew guy and a stage manager, and knew how to unload a truck and to do rigging and lighting, it was time to do my own shows.
It's different once you have to hire your own crew, ordering your own catering, handle the parking. You have no idea what's all involved with that. This was at the Palladium but they got bigger, got some buyers who came in, and Moss Jacobs joined. We got a two-story house down on La Brea. There was one before that, on Sunset just across the street from the Chateau Marmont. We ended up moving to the AEG offices on Wilshire but I'm jumping around.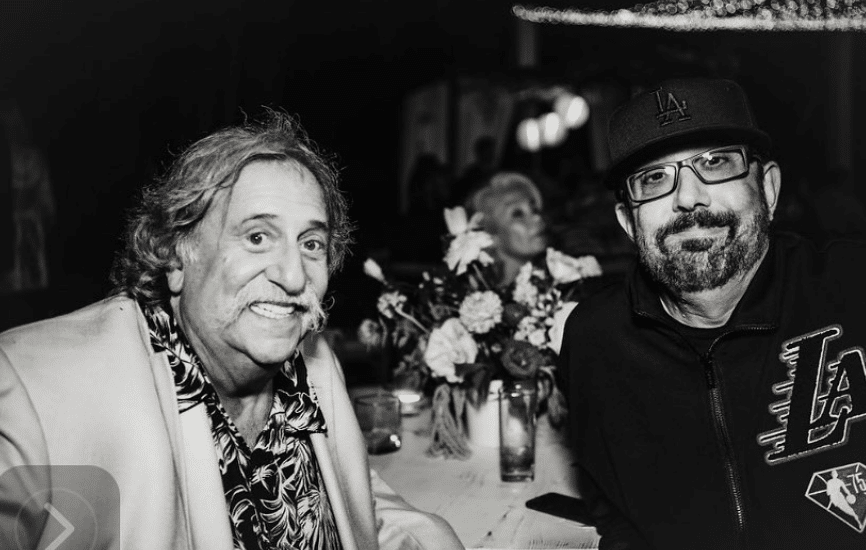 Speaking of jumping around, clearly you were there for the first, chaotic year of Coachella.
Yeah, I ran the techno tent, known as the Sahara Tent. I've ran that stage for, I guess, 23 years. We had 1999, we skipped Covid – think it's 23.
Legend was that the bands helped save Coachella the first year because they loved it and talked to their agents …
They helped. But you know who helped us a lot? Who moved us out of our office and saved us? Paul Gongaware and John Meglen (of Concerts West). They bought GV, bought the debt and took this small group of about 10 people and saved us. They threw the life raft out. Every time I see them, I say, "Thank you for the life preserver."
I just saw Gongaware in the elevator and said "Thanks for the life preserver." He just laughs. Gongaware is the best.
Avalon was looking at it too, during Coachella, right?
I'm sure they were but it was just AEG at the time. We'd gotten the phone call and it was the best news ever.
Did I skip over a giant chunk of your life?
GV did a lot of shows all over town. We did The Roxy, The Whisky, The Palladium, The Palace, the El Rey. We did a bunch of other venues. We hadn't operated any at that time so we went into venues that were open rooms. We had exclusives but we would go and book other venues. We'd be all over town. One day we'd be at The Fonda, one day we'd be at The Palladium. That was the fun part of it.
And San Diego and Las Vegas. At one point Rick was booking so many shows at a venue called The Huntridge Theatre in Las Vegas that I would fly out in the morning, do the show and fly back that night.
Maybe you can help me with the definition of your job.
It's called production manager. You're in charge of managing productions but you're also a promoter rep. You're the contact for the band and its entourage. A couple of terminologies. I have to be the smiling, happy promoter rep; the "responsible" person.
It goes like this: Susan Rosenbluth has George Lopez at the 10,000-capacity arena in Ontario. She'll say to get a budget together based off the rider, get the stage hand catering stuff. Basically, she gets the show, she's getting ready to book it with the agent and then I get the show handed off to me and I take care of everything. The ticketing is taken care of but as far as the advancement with the building, advancing with the artist, making sure that George Lopez has the soundboard they require, making sure the load-in is scheduled, making sure all the lighting and rigging and staging is in the right place based on the seating chart, the dressing rooms, all the parking, that's me.
And George Lopez is pretty easy. Basically, a microphone and a barstool.
Usually, you get the show handed off to you and you put budgets together or some shows are already booked and handed off to you with the budget already done. It's different every show.
You're an affable fella and have even given me a farewell hug after visiting your show in Fresno. I assume there are actual friendships with the folks who actually go onstage.
Yeah, friendships with artists and stuff – a lot of them are hard. You meet a lot of people who are really cool and then the next day they're gone. You deal with them so much on the phone. You have a thousand emails from a production manager and become good friends talking on the phone, texting each other, meet each other day-of-show, you feel like you know each other forever and the next day they're in another city. It's heartbreaking. You have to really appreciate and like some of the road managers who come in. Especially LA where things are more involved than Bangor, Maine. LA is the most stressful for tours.
Well, now there are other places. A road manager says along with LA and New York for stressed out guest lists now we have Nashville and Miami. Miami is becoming a stressful place to do a show.
And you have friends like Stuart Ross. There are nameless people you know because you've worked with them. I work with Stuart on Lollapalooza, on all the touring festivals.
Maybe I left that out. When Lollapalooza started out in '91 until it ended in '97, I went out as a tour carpenter in the summer and did my summer vacation working on the Lollapalooza setting up stages. I was there for every show. On top of all the times we promoted Beastie Boys, I got to see them play 37 times at Lollapalooza. It was as joy.
In '96 The Ramones were on the bill. Every single day my lunch break was at that time when they were on stage. I'd eat a bowl of Cap'n Crunch and watch The Ramones in the broad daylight, when they were in all leather, in 110 degrees. Every single day.
Tim Armstrong from Rancid and I would sit on the side of the stage and watch The Ramones. Every time we see each other we talk about. We must have seen them 60 times.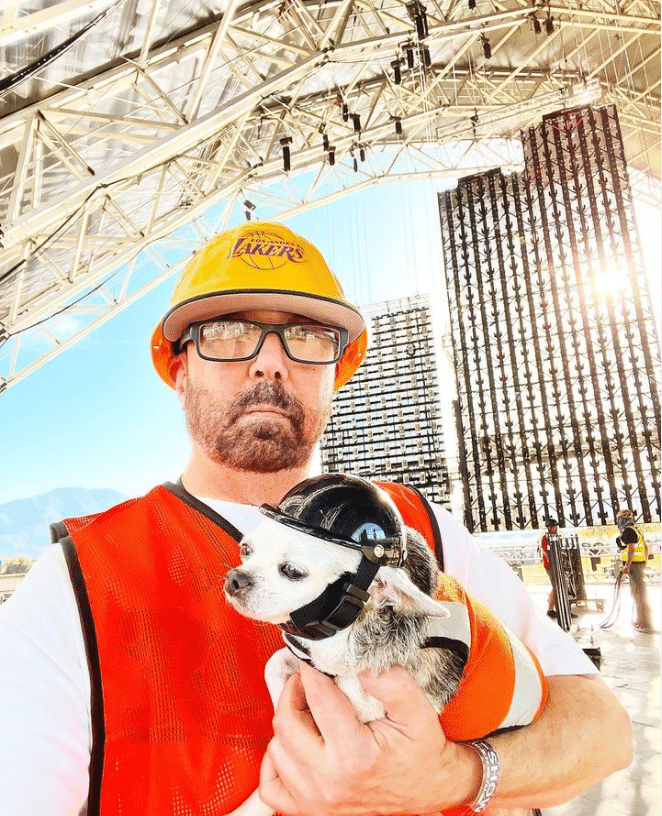 Do you think acts recognize folks like you and Susan?
They do but a lot of them don't. I tell bands to make friends with the promoters. In the old days, I'd be on Lollapalooza and I knew who I'd see in St. Louis, Chicago, New York. I knew Delsener/Slater. You'd see these legendary buyers. You'd see Ron Delsener at shows. He'd get you Lollapalooza shirts with a Lollapalooza logo and his shed name on it. You always knew you were going to see him. Now it's all one big company but I'd always try and introduce myself to the bands and tell them you need to be friends with the promoters or at least the building people.
Yeah, but why? Good advice but …
I say it's important for you know who your local person is going to be. I've worked with a lot of bands over the years.
I was on a tour bus once with a band that stayed on it until stage time because they avoided promoters.
At the Greek, we have all these sold-out shows, we bring them a gift. We'd go upstairs and give bands a bottle of Dom Perignon and on it would be engraved the date, the logo the words "sold out." The bands love it because they can take it home and put it on the shelf. Or drink it on the bus. Or make it a vase. It's just a way to say hi; no photo or nothing like that.
I usually introduce myself to all the bands, let them know if they need anything to come down the hallway and talk to me.
At the Greek I would tell them if they want to, in the afternoon, we'd get a runner and let them go look at the telescope at the observatory. If they want to go across the street and golf, we'll get you some clubs. I like to do that a lot.
We had a band a little bit ago who came in with a lot of little kids; we told them about the little park across the street with the merry-go-round and slides.
You have a lot of praise for K-pop acts like BTS.
They're beyond genius. It's amazing how much they put into their shows, programming and rehearsing. The way they do their load-in and load-out, how they advance all their stuff. It's pretty remarkable. They're perfectionists. How the upbringing is, the schooling – they don't fuck up. There might be a Co2 tank that doesn't fire off because a hose busted off but their rehearsals, how detailed they are, how they send emails and checklists, it's done really well.
Any genres that are the exact opposite?
It depends. Some tours it's basic stuff. K-pop, they send you a checklist that shows you what they want. And if you can't get it there's a list of substitutes. You enter it all into a spreadsheet and send it back. They'll say, "We need to find the lights we need; we don't want to use this other spare or suggestion."
Mostly, bands will tour with 8 or 12 people, these will have 30-35 because they have their own camera people and spotlight people. Some shows you have a local camera and spotlight operator, and the LD will talk to them before the show. Here we have a Korean-speaking lighting designer who has his own camera guys who speak Korean, and spotlight operator.
There's no delay because otherwise you have to have a translator on the headset. The guy could be speaking Korean, the translator would need to translate it into American, then the guys who are running the spotlights get the translation so there's a two-second delay. So, they bring all their own people. There's no delay, no translation errors. The show's run much more smoothly.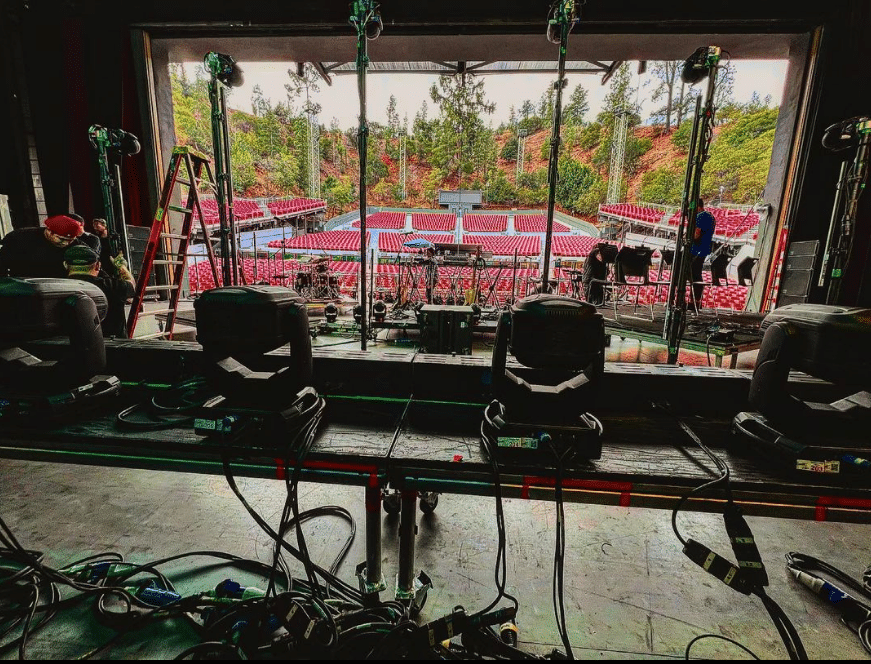 It would seem that the opposite would be the TikTok stars that you had mentioned once.
It's weird because there are all these TikTok stars that are going to play venues and I don't know all of them, but the kids do. There was this one, I don't know his name, but all the kids came to see him play his music and do his rants and play his visuals and blow up his pyro. And he was a TikTok guy.
But did he have an efficient road crew?
He had a sound guy, light guy. The one kid had mostly his friends doing it. But it was fine, it was fine.
We talked about this recently and it sounded like the whole TikTok genre caught you flat-footed.
It's weird because I learned from Paul T. that if you don't know who the artist is, research them. Obviously, now you can go and type them in, look up the manager, see their routing. All that stuff.
In the old days, I'd call you (at Pollstar) or get that Pollstar venue directory to try and find road managers.
But back to TikTok, yeah – I don't know who these stars are. I had to research them, then get a TikTok account. I guess there's quite a few of them out there.
Are you seeing that become part of your repertoire?
Yeah. At Coachella we had a DJ / gamer and it was massive with 30,000 kids waiting for him to go on. I said, "Who is this guy?" My friend Bob Forrest (Thelonious Monster)'s son, Elvis, responds, "Oh, he's so and so and this and that."
I had no idea. These kids are all on their phones or playing games with each other. It's crazy. To keep up – thank God for the internet. It's pretty wild. It's a lot different from when you heard of the Smashing Pumpkins, waiting for their record to come out, then waiting for their video.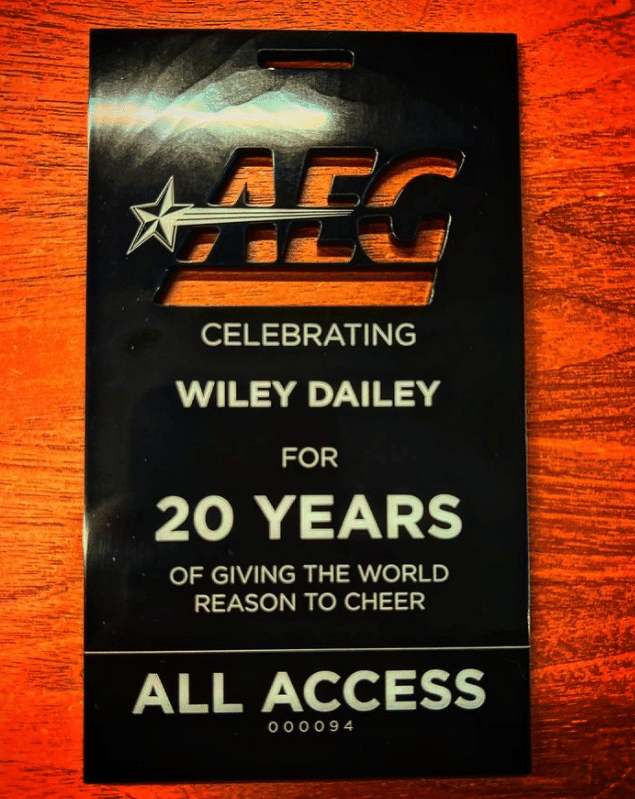 Sorry about the military plane going over my house. It's flying out of Fresno, going to Alaska, then coming back. Part of my life.
I'm actually going to Alaska next week.
Really! I recall Pollstar running a trade shot of you and Susan in front of a little puddle jumper up there or something.
We landed on a glacier in the middle of the ocean. After we did Elton John dates, I got Susan, a surprise. There are helicopters in Girdwood who take you on scenic trips and will land on one of the glaciers and let you walk around. I surprise her. Susan gave me a weird look like, "Are you kidding me?" And we boarded and flew around, walked around, and took off and went to the airport.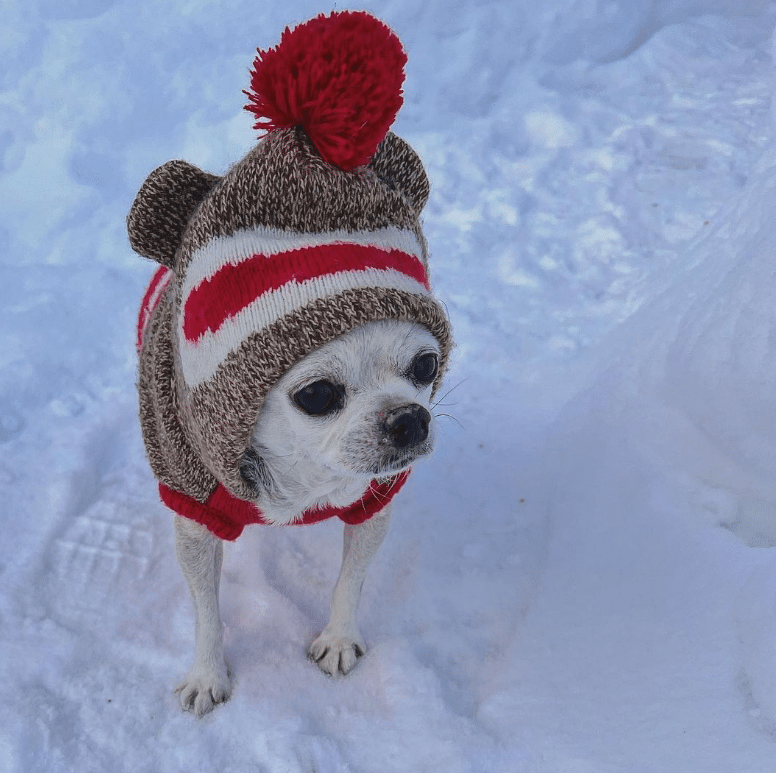 "Landing on a glacier" doesn't sound that special but I bet it's beautiful.
Oh. I do it every time I'm up there. It's the craziest thing to fly around, especially in the wintertime, and land on a glacier. It's sturdy; it's not going anywhere. They're receding. I've been going up there for 30 years and to see how small the glaciers are getting because of global warming is pretty sad. They're millions of years old and they're not always going to be there. It's sad to see how warm it's got there.
Odd question but after decades of travel, do you pack well?
I have suitcases that have all my winter stuff in them. I have an "Alaska suitcase" that has the boots and the snowboard suit. I keep it under 50 pounds. I have another one that's all winter stuff, all the cleats you put on your shoes, gloves, underwear. I actually have my Alaska suitcase open right now, checking to make sure I have everything ready and can get the hell out of Dodge.
Would you ever feel comfortable staying in a specific market?
If someone like Paul T, John Meglen or Gongaware called me and said they were opening a 1,200 capacity club in Alaska and wanted me to run shows there, I'd say, "I'll take it. See you later!"
What is something people would be surprised to learn about you?
Not really. When I tell people how active I am in the recovery program they find that surprising. It's not that well known that I've been clean and sober in AA for 34 years. I'm not a "guru" but people who are beginning have someone. Also, a lot of people don't know the time spent taking care of my mom when she got cancer.
Also, as most people know, I'm an avid Lakers fan. I've been to thousands of games; I've been to playoffs. I have some good, signed stuff at the office and at my house. If I'm not wearing a Lakers jacket, socks or hat, it's noticeable. In the old days, I would rewatch the games over and over again. I'd study the game on the flight home from the playoffs. I don't keep score like they do in baseball – all those statistics – and maybe not paying attention as much now that they're doing so well and with Kobe and Shaq off the team, but it's a big passion. Baseball too – Dodgers.
OK, so what about the puppet?
The puppet came from Thomas, a kid who's worked for me at the Sahara Tent at Coachella. Thomas has been my technician to take care of the DJ gear. Every DJ has a different setup, they have all their own gear, and want to be set up to the left, right or the middle of the stage. Thomas is in charge of that. His full-time boss came to Stagecoach this past year. His girlfriend's bosses came too. So they had a great time and give something to me that I didn't have. They couldn't figure it out but they knew I liked puppets (I love the Muppets) and play around with them at shows and stuff. Long story short, I go have dinner with them and handed me something in a bag. I thought it was a stuffed animal; I could feel it through the cloth bag.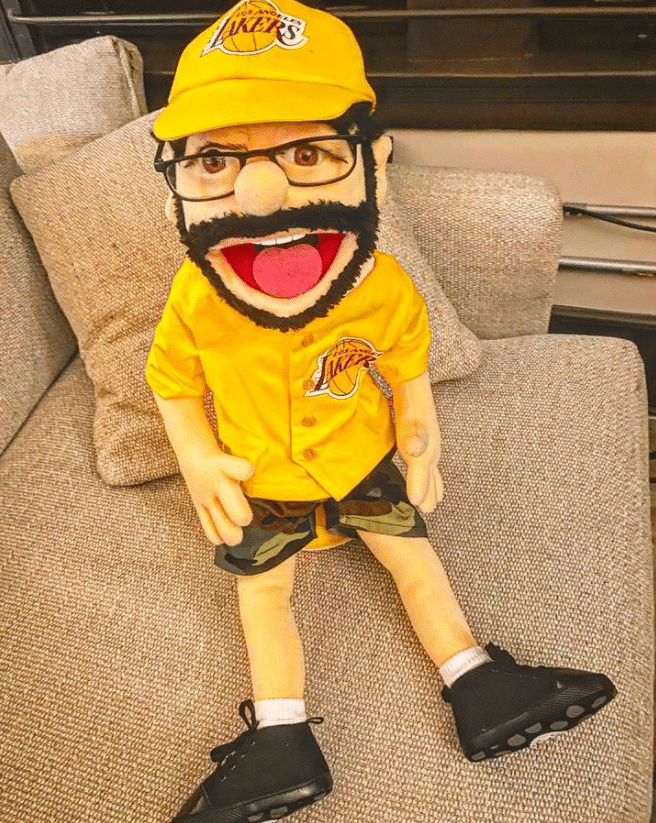 I open it up and its got a pair of cargo shorts like I wear, a pair of my black sneakers, a jersey, a button-up a Lakers logo, my name on it, a baseball hat, the eyes look like me. It was the most personal thing I've ever gotten. I told them they outdid the Kobe-signed basketball, the car, the Rolex watch. I've got to get him an Instagram page to figure out where to terrorize people.
We can't do an interview without talking about your little doggie.
Kobe. Kobe is 15. He's losing his hearing. He sleeps a lot. He's having some trouble with his arthritis and his back legs. It's hard to watch him get old quickly. It's like watching a candle melt a little bit. He's taking a nap, sitting on the bed next to me. He's still going to shows. We're going to fly to Alaska. He was at the show last week, hanging out in the production office. My friend Zowie will come to the shows and take him out for a few hours, let him run around.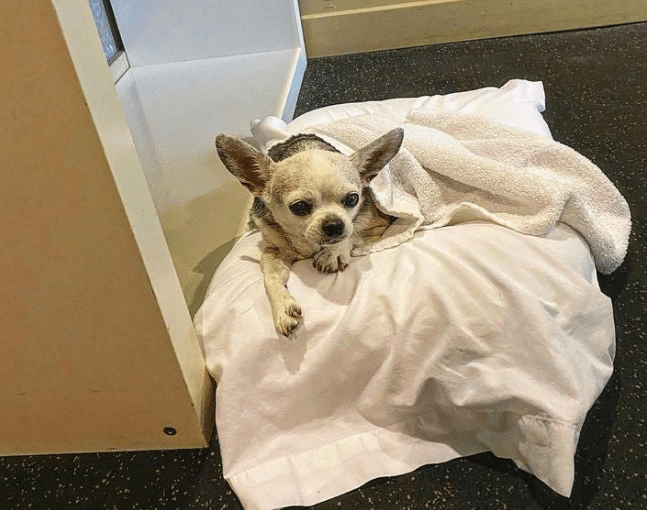 He's kind of a mascot, right?
Oh, he's a mascot. He's very well-known in Korea because of all the K-pop bands we work with. They'd put Kobe on their Instagram feeds. I think it was BTS – we were doing the walk from the dressing rooms at Citi Field to the stage and I'm walking with the band and the security, with Kobe. They had taken some video of him playing with one of the guys in the bands, posted it and got millions of likes.
Every show if we do BTS or K-pop I'll take Kobe out back to go pee and you'll see these kids waiting in line with these little Korean girls going, "Kobe? Kobe!! Can we take a picture with Kobe?"
What's crazy is we never got to the original concept for the interview: How to cut costs on shows, how to reduce a $60 invoice to $40.
What's funny is at The Greek it's a union house but what gets costly is catering, and wasted catering. I order brunch rather than breakfast and lunch because nobody eats breakfast. We have an 8 am load-in, all the departments are on stage and nobody from the tour will be able to eat for two hours. By then, they're setting up for lunch. They'll say they want breakfast, but nobody's going to eat it. I know that. It goes uneaten and I get upset with that because that's a band wasting money and, if they're in percentage, that's their money. That's hard to see when there are people out there going hungry.
And with Covid, we can't just pack up food and send it somewhere because of the contamination issue. The caterers get blamed for that if someone gets sick.
Your whole life is about cutting costs.
Right. You have a $25,000 stagehand budget for a show and you get a rider sent to you that's, "We booked a show with a rider not received," right? Next to that $25,000 for the stagehands it will say "Rider not received."
Then you'll see the rider, and you'll put the calls down, and it comes out to $37,000 because they want all these hands. We get back to them saying we need to stagger these calls. We have an 8 am load-in for rigging, 9 o'clock for lights, 10 for audio and try to break down these calls for the heads and stuff but it's hard when you have a rider that's not received. That rider is just typed up by a production manager without even thinking about budget sometimes. They just type what they want.
Same with the dressing room riders. All this stuff on it, not thinking, "We're supposed to be paying $500 each show on our dressing rooms." There will be 10 pages sometimes. What is all this? They don't look at the offers and the budgets, and find something that will fit into the building budget for each show. Just do something that's around $500 because there's always about $500 in there.
You've got to save every nickel and dime because if the shows aren't selling well you want to save the loss and if the artist is in percentages, you want them to walk out making the most money they can. If they're not cutting these laborer calls back, or cutting catering down, they're not saving money. It's THEIR money.
Most artists sell out in LA sell out the whole tour but I just get upset sometimes when staff or artists don't care. I don't like wasting food or money.
Then again, some are awesome.
It all adds up.
Before we go, any go-to stories regarding artists?
Do you know who Lou Reed is?
His wife Laurie Anderson was playing the El Rey theater in the early 90s. She had two shows and we were setting up. I was at the soundboard talking to the production manager. I hear the phone ringing in the production office so I go running. I had one of those caller IDs on the phone so I could see it was as 212 area code. I'm thinking, great, what is the agent calling about? Did the production manager call and complain to the agent and not me directly?
I answer the phone and it was Lou Reed.
"Can I speak to Wiley please?"
"Speaking."
"Hi, my name is Lou and I am Laurie's husband and I want to send her some flowers but can you tell me a local flower shop?"
I'm digging around my desk for the Yellow Pages to find Moe's Flowers on Crescent Heights and Melrose. There wasn't Google back then. This was about 1995. I gave him the number, he said thank you very much, hung up and we had the most beautiful flower arrangements delivered each day.
Me answering that phone and having him say thank you very much? I thought that was pretty fuckin' cool.
There are some that are just crazy, you know? But we just did Robert Plant at the Greek and he was in the production office signing a guitar we had got for MusiCares and was just going over there to make sure he had got to it so I could call the MusiCares people (they basically had a person waiting on the phone to buy it for auction). He started talking to me but I had to get going and just said, "Hey, thank you for giving us all a day of work – the firemen, the police officers, the caterers, the stagehands – we all appreciate it."
He gave me a funny look and just said, "Well, thank you very much."
It was fuckin' Robert Plant!