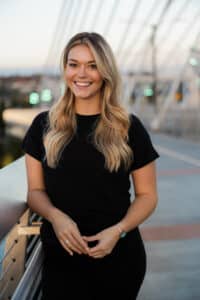 As the pandemic made tectonic shifts in the music business, one thing that emerged was a new, significant nonprofit service called Backline. Founded in late 2019, and launched mere months before the lockdowns, the organization provides music industry professionals and their families with mental health and wellness resources.
The service did not begin as a small project but quite the opposite. Because of events in 2019 and a laser-focused industry, an organization that connected artists and crews directly with mental health services was quickly embraced.
Backline has reached name recognition, and is often mentioned in the same breath as MusiCares and Sweet Relief. There are still those who are unfamiliar with Backline, however, and we'd like to fill in the gap. To do so, we asked executive director Hilary Gleason to give us the basics.
Along with others, Gleason launched Backline using her experience and name recognition in global health, having worked with organizations like Global Citizen, The United Nations Foundation and Global Health Corps. She also worked with the Duke Global Health Institute since 2007, supporting a neurosurgical training program in Uganda with Duke and Stanford Hospitals.
What is the genesis of Backline?
The initial spark was, unfortunately, a series of losses in the music industry to depression, substance abuse and suicide in the summer of 2019.
I have a background in global health and nonprofits and when we suffered these tragic losses, I was on the receiving end of phone calls and outreach from artists, tour managers and promoters asking the question that really is the core of what we do at Backline, which is, "Why are people slipping through the cracks?"
Recognizing the music industry as a whole has been struggling with this question for a long time, and that I wasn't the only one having those conversations, I saw the need to bring them into a collective space. A few of the folks that eventually became cofounders and I set up a series of conference calls in September 2019 with more than 150 people from across the music industry that wanted to have the conversation around where do people go when they need support, what organizations already exist that we can be pointing people to, and what are the needs that maybe haven't been filled yet.
So, we got on that first conference call and we had MusiCares and Sweet Relief, and a few other organizations to really speak to the work that they're doing and initially we were hoping to point people in the right direction so that everyone had an updated idea of the flow to get their artists, crews and themselves the support that they need.
However, in those conference calls we realized that there was no one-stop shop for this. There was no place to go to figure out what you needed or what you were eligible for, or how to proceed through uncharted personal challenges. So, we built Backline to be that first stop.
We are able to refer people to places like MusiCares and Sweet Relief when folks are eligible for them, but we've also built out a full suite of mental health and wellness tips & tools, and resources for people to tap into at any time. That is also complemented by our case management program, which provides one-on-one support in navigating the mental health landscape for music industry professionals and their family members.
It's difficult to herd this industry of cats. You literally had 150-plus people on a single phone call? And how did you recruit them?
I think we sent out the email to about 50 folks that I and my cofounders knew in the industry and encouraged them to forward that to anyone they knew who wanted to have the same conversation.
In 2019, we had – in my music industry space – some losses but on a larger scale the music industry was grieving the losses of Mac Miller and Avicii, and watching tours get canceled for mental health. There was a real willingness and desire from the industry to have the conversation and be alongside people who were really going to take strides to make changes here and make it easier.
I have this vision of you founders hanging up the call and saying, "Holy smokes, there is a need for something and we need to get our asses in gear…"
Yes.
"…and one of us needs to set up a 501(c)3. One of us needs to recruit and vet providers." Meanwhile people are automatically contacting you because they want to get this ball rolling. It may have been overwhelming. I'm making this up. I figured things happened quickly.
Yes, they sure did. Fortunately, I have a group of eight other folks who are now Backline's cofounders that were personally touched by some of these losses in the industry or had mental health journeys in the industry themselves. They were willing to do whatever it took to provide a better path forward for our community.
In that group we have an agent, we have a lawyer, we have a marketing person, someone who was able to build a website, somebody who was able to build the branding. The nine of us, immediately after we got off the first conference call, said, OK, there's clearly a need here and we're going to build this.
I think a lot of that was because of our own grief journeys and wanting to channel the pain we were collectively experiencing into something positive. But it also felt that if we could do this work and helping just one person would be worth it.
Recognizing both that there were 150 people who wanted to support this work and there was a much larger community of people who were struggling, and people who were grieving, we built this incredibly quickly. We launched Backline less than six weeks after the initial conference call.
We had applied for our 501(c)3 paperwork at that time but had to launch the organization with a fiscal sponsor. So, while we were unable to receive tax-exempt donations at that time to make this a reality, you can do that under an umbrella organization. We were really fortunate to have the right people on the call who were willing to put in 18-hour days over the period of six weeks to make this a reality, and to build a better music industry.
When it came to music professionals needing help before you came along, what was the flowchart that they used, and where did it end? What does that flowchart look like now that you are here?
I'm not sure that before we built Backline that there was one flowchart that folks were using. We heard that a lot of times people were running a Google search to see what resources were out there, or picking up the phone and calling someone else in the music industry that they know needed therapy or had therapy, and ask what they did in this situation. The reality is it is not a one-size-fits-all matter and so what worked for one person might not work for you. With the Google search, you were finding organizations and resources that you might not be eligible for.
A lot of organizations have eligibility requirements so they are able to vet and approve folks that need financial assistance. If you are in crisis and running a Google search and you come across a resource that you're not eligible for, that can be a closed door. That can really stop the flowchart, so-to-speak.
We took it upon ourselves to understand the landscape of organizations that already exist to serve this community, what their eligibility requirements are and what resources they provide.
We also built out a clinical network of more than 350 providers around the country that have experience and interest in serving the music community, and we've personally vetted them.
Now the flowchart is folks come to us and tell us what they are struggling with, or what they think they need to thrive on the road, and we are able to refer them out to providers and organizations that meet their exact need because we do the work of really getting to know the people who are coming to us and understanding their role in the industry and what resources they have available to them. For instance, if they have insurance, if they're able to pay for resources or not, and then they receive a customized care plan from us.
Your care providers: are they easily defined? Drug addiction counselors? Mental health physicians?
Yes, sort of. Our primary program is a case management program. That's our one-on-one individualized support and referral process. Anyone in the music industry or their family members can go to our website, fill out a quick form and then they receive a link to schedule time with one of our case managers, all of whom are licensed mental health providers that have an understanding of the music industry. So, on that intake call, we do the deep dive of asking if they have insurance, what they have tried before and what kind of a provider they are looking for.
Then they receive a custom care referral care plan from us that passes them onto our care providers, which includes therapists, life coaches, psychologists, psychiatrists, sober support, substance abuse treatment centers, as well as local and national organizations that serve a variety of needs
Is a lot of this tour related? And by that, I mean do you specifically target a resource to the market that the touring professional is in?
When we built this in 2019, it was primarily built around the touring industry. We really understand the touring lifestyle and the difficulties to access care around routing. A lot of our providers are able to meet with folks at home and then continue care when they're on the road.
But also, for folks who are touring, therapy or video therapy might not be the best fit. They might benefit by tapping into one of our wellness practices that is going to help them stay grounded on the road.
We also now have virtual support groups that people can Zoom into from anywhere so we see a lot of folks calling in from tour and just finding a group to connect with about the difficulties surrounding the lifestyle and some of the challenges while being in a safe, private space that is moderated by a therapist. That therapist is able to see if there's additional support needed for someone and provide that moderation, support and escalation support as needed.
Back to your chronology. This was founded mere months before the lockdowns. As the rest of us sat on our hands, I can imagine Backline getting a rush of traffic.
I like to say our crystal ball was working really well in 2019 when we built this.
Luckily enough, we were in full swing to receive that surge. The numbers of people calling in for case management support quadrupled in March 2020 and have only grown since then.
The first week of lockdowns we launched our support group programs, which was not something we were planning to do but we were able to recognize folks needed a safe place to address the uncertainties we were feeling, and to address the grief. We had been built as an organization to operate virtually and nationally, which really set us up to quickly make sure that anybody who needed the resources in that moment were able to access them.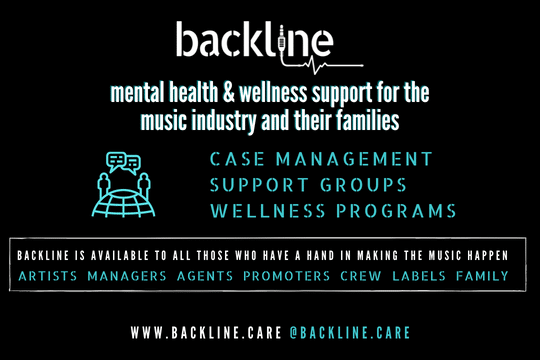 I had a conversation about two months ago with someone in the industry and we both felt that there was a general malaise. People were taking their time responding to emails, to respond to voice messages, that they weren't back into their fast-paced lifestyles. Do you have anything to say to that? First of all, do you think that's accurate?
Definitely accurate. We are seeing a collective grief and a collective response to the trauma and stress put on the music industry by the pandemic.
One of the biggest things that was lost in that moment was human connection, life outside of a screen. The music industry is really centered around live music and the communities that it brings together. Without that, it was really hard for folks and we saw a lot of people turning inward – a lot of depression, A lot of insecurity.
So, now that live music is back in full swing, we had hoped that a lot of those problems would go away but you're seeing an uptick in social anxiety, an uptick in people approaching things from a new perspective and that's not always a positive thing.
So, there were losses during the pandemic: there were divorces, there were really challenging things that came up, so it's not like getting on stage or going to a show or sending an email feels the same way as it did three years ago.
I also think the amount of emails sent right now is so much higher than it maybe was prior to the pandemic because you still have a lot of folks who are still at home and the methods of work have changed. .
I think what you're saying is absolutely correct but I would also say there has been a real positive shift in the industry where folks are asking someone how they are, and listening to the answer, and not wanting the answer to be just, "Oh, I'm fine." We are now wanting to look for a deeper level of vulnerability that we are able to share, and we now have an industry that is focused more on who people are and how they are doing rather than about a level of productivity and output.
There is some crossover with MusiCares. How do you complement their program and, in contrast, what is your individuality?
MusiCares is a wonderful organization and they provide much needed support, especially financial support to folks who aren't able to pay their medical bills or aren't able to work, or need to get into a substance treatment facility.
We often refer out people who are eligible to MusiCares, to their resources. They also have a lot of support groups, particularly sober support groups.
What we do is not the same. We're really digging into the specifics of mental health and trying to point them to long-term resources that are going to support their journey, but we work in tandem with MusiCares and also recognize that this problem is far too big for any one organization to serve. The work that we are doing specifically around wellness and around that individual guidance and support to resources really complements them so when folks have additional mental health needs that they're not able to serve, they're also pointing people over to Backline.
People can obviously help by clicking here and providing a donation. What else can they do?
One of most helpful programs right now is a backstage signage program where venues, promoters and festivals from around the country can download 8.5" x 11" pieces of papers, print them, and put them up in the green room or backstage at the festival. It says something along the lines of, "Life in the industry isn't always easy. If you need additional support, go to Backline."
It has our website and a QR code on it. We're currently up in about 200 spaces around the country but that's a really powerful way for people to get to know us, in places that they already are and where they can pass the information on to other folks. To download signage go to www.backline.care/venues
We also need conversations and ambassadors to really spread this message. Wear a Backline T-shirt. Include us as a beneficiary of an event, or in a workshop or training for staff. Just really reaching out to us and starting a conversation is a huge part of how we get ourselves in front of more people who might be able to benefit from our services.
As we speak, tours are getting canceled. What are you seeing over there?
We do see a fair amount of cancellations happening and recognize the rigors of touring can be really hard on artists and crews that would necessitate the cancelation of such, but also recognizing that canceling any show or tour has a huge ripple effect through agencies, promoters, venues, the whole ecosystem.
So, a lot of the work we're doing is preventative care so that when folks are going out on the road they feel confident in their ability to finish the tour because they have the support of a therapist, or a support group, or a wellness practice that will keep them healthy both mentally and physically to allow them to finish a tour.
Cancellations are a natural occurrence but we are hopeful that more people are being proactive about our mental health and wellness programs and we can kind of support them through a tour and let them know they have the tools needed.
Any crystal balls for the end of the year, in general and how Backline may react?
Our crystal ball has turned into real feedback from the industry so we keep our ears to the ground and expect folks in the industry to let us know if they need something that isn't currently offered.
One example of that is a program we recently launched that is for partners of folks in the industry and recognizing that your spouse or partner experiences the stress of you being in the industry as well and may need additional support, too. That is something we were hearing from a lot of people so we built out a resource for that. We will continue to do the work of being a listening ear and then working quickly to build programs that will meet that need.
Is there anything you'd like to add?
The last thing is something that is top-of-mind for us: recognizing the diversity of the people in the music industry and that there are different needs based on the many different people who exist in it.
We have a real commitment to breaking down barriers to accessing mental health care and recognizing there are so many more barriers for Black, indigenous and people of color in the music industry as well as the LGBTQIA+ community, so we are really focusing our resources on making sure that anybody who needs a Backline referral or program can really find somewhere to land.
We're doing a ton of outreach into the rap, R&B and hip-hop worlds to make sure that they're utilizing our resources and that our resources are appropriate and affordable.
For further information visit https://backline.care/