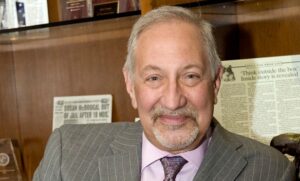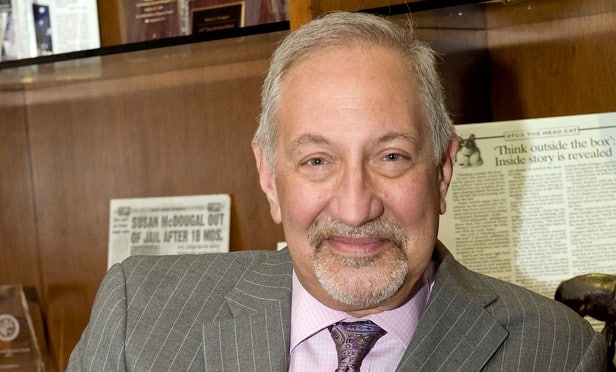 There are several significant names in the fabric of American life that have a background in music promotion. We can start with film entrepreneur Jerry Weintraub. There are others like Roger Ailes, who produced Broadway shows. There are yet others that nobody wants to talk about anymore.
Then there is one of the most significant names in criminal defense, Mark Geragos. He has spent 40 years building a formidable reputation as a defense attorney, representing everyone from Gary Condit to Wynonna Ryder to Scott Peterson. Those in the music industry recognize his name for his defense of clients Michael Jackson, Chris Brown, and Nate Dogg.
However, what few probably know is that he began his career as a concert promoter, turning a restaurant called Perkins Place in Los Angeles into one of the hippest joints in the market. The building began in 1924 hosting opera and vaudeville and was, at times, a movie theatre including for porno.
One person who never forgot is "Poorman," the online persona of Jim Trenton, a DJ at KROQ who wrote the following:
"Perkins, originally The Raymond Theatre, became the destination for live shows by all the new bands KROQ played, including Oingo Boingo, X, the Go-Go's, Romeo Void, Adam and the Ants and plenty of punk shows.
"The promoter of Perkins, to this day, was the best I've ever seen," Trenton wrote. "He was a swashbuckling, skinny, loud-spoken, quick-talking guy about to attend law school … . You might recognize his name: Mark Geragos.
"He could have gone in a different direction and become the greatest concert promoter of all time. He promoted these shows in cooperation with the station. The way listeners won tickets was to bring in a bag of 100 soda and beer cans to the station for recycling and they'd receive a pair of tickets in exchange. You can probably imagine the mess! Trash bags filled with cans were everywhere in the KROQ building."
This was 40 years ago. Mr. Geragos can be forgiven for not recalling the details but he can be applauded for remembering so many. And, yes, it is entertaining to hear him list off punk bands.
There's plenty of information out there when it comes to your history as an attorney but not much at all when it comes to your history as a concert promoter. What got you involved?
I was going to law school and I had done some concert bookings while I was in college. It was interesting. The guy who I had worked for when I was in high school as a waiter had purchased a theater and I thought it would just be a perfect venue to do concerts. We did a couple, starting off with Smokey Robinson, I think. Then we did one other.
I had buddies over at KROQ and all of a sudden it occurred to me we could be doing festival-style shows downstairs and spotlight bands starting to make it in the New Wave scene. We took bands like Oingo Boingo which, at the time, was playing high schools. I like to take credit as the first person to put them onstage on Halloween. I think we did that two years in a row until the Universal Amphitheatre stole them from me and sold it out at its 6,000-capacity.
Then we did bands like The Ramones, Gang of Four, 999. We used to break bands that were being played on KROQ. I had the DJs there as my announcers.
We would also throw comedians up. That was a scary thing for a comedian with these kinds of crowds back then. I used to laugh, saying it was feeding the Christians to the lions, to put a comedian up in front of people waiting for Siouxsie And The Banshees.
For that show – Siouxsie And The Banshees – we had a moshpit in the front and that place got crazy! At one point people were spitting on her and she didn't take lightly to that and I think concked somebody over their head with her guitar. The Pasadena police arrested her right after the show.
I thought it was the guitarist.
It might have been. I thought it was Siouxsie. I don't remember! It's been 40 years. Until I talked to you, I didn't realize it's been more than 40 years.
(Editor's note: Siouxsie once said, "John McGeoch got arrested in Pasadena. Some girl was getting beaten up in the audience. And John, being a fiery Scotsman, just went and whacked the man on the head with his guitar. The man had the nerve to file a complaint against him for assaulting him with the guitar! It was an acoustic guitar as well, it wasn't a *heavy* one.")
I remember, whoever it was who got arrested, my father, who had just left the DA's office, represented them and got it dismissed.
This is taking me down memory lane too. Gang of Four would have been my band in junior high.
Yup! And The Waitresses we did there. Romeo Void. The Go-Go's. Oh geez, the English Beat!
The highlight had to be when we did a surprise show with The Pretenders. They had already sold out four nights, I believe, at Santa Monica Civic and this was a surprise show on the fifth night. And who walks in but Bruce Springsteen! He gets on stage with Chrissie Hynde and they do Jackie Wilson's "Higher & Higher."
I said to somebody, "I think this is about as good as a way to go out on promoting rock concerts as I'll ever have."
So this was 1979-1982. If I know my history, that ended because you, well, just wanted to go into law.
Right. I always wanted to be a lawyer but I loved music and I had a bunch of friends at KROQ. There were great synergies. It was a magical time in rock 'n' roll.
That seemed to be a lot of hipness for 1980, to be honest.
(laughs)
… That was the hair band era. You'd be more excited to have people excited about Night Ranger than the Violent Femmes, at least where I came from. But clearly you had enough successful shows to keep going; you had a crowd for it. But of course, we're talking Los Angeles.
It really was an incubator at that point. KROQ was coming into its own. We just caught a wave, if you will. It was a magical period of time.
Online you can still see Perkins Place itineraries and they lean more toward old-fashioned rock 'n' roll like Paul Stanley's solo project.
Those sort of came after my time. But I do remember a few shows that stick out. George Thorogood & The Destroyers was not one of our typical acts but I loved the music and he did 50 States in 50 Days and we were the 50th show.
Then, also, we did The Plasmatics for three or four nights, then I took them down to the Olympic Auditorium and we tried to blow up a bus onstage. I was not selling my third show with the Plasmatics so what we had to do is I announced on KROQ that I was going to have Wendy O. Williams blow up my partner Jim Perkins' Lincoln Continental if we sold out. Well, that sold the show out and she did. She blew up Jim's Continental onstage.
It's ironic because I had a rather fractious relationship with the fire department back then. Now my law office is in a rehabbed fire building.
Do you recall working with agents at the time?
I do. I recall Ian Copeland, who was the brother of Stewart Copeland of The Police, who ran the FBI (Frontier Booking International). Then we had a contact at William Morris and another person, Rick Olson, that I bought acts from. For a while there, Copeland and FBI was very, very tight with us.
I know this person who worked at a record company at the time as an intern and loved making deliveries at FBI because it had the cutest receptionist.
(laughs) Right!
… who one day became famous as Courtney Cox.
There were two other guys I worked with. One was about my age, who worked for Bill Graham and we coordinated because they were up in San Francisco. Talk about a Concert Promoters Association! [editor's note: we called around and the person was likely longtime BGP exec Danny Scher].
There were certain synergies. Elmer Valentine was still alive at the Whisky. He was legendary.
Do you think this part of your life, and the interactions you had, helped inform your relationships with future music/entertainment clients?
I don't think there is any doubt that having dealt with talent in a high-charged situation builds a skill set.
Perkins Place shuttered temporarily in 1984 after Geragos joined his father's law firm and Avalon Attractions, which picked up where Geragos left off, grew weary of neighbor's complaints. It wrapped with a show by The Cult in 1984 and reopened in 1987 with the help of Pacificoncerts, run by former Avalon exec Roger Shepherd.